You are invited to join us on a tour of Israel March 8-17, 2018. Israel is a land like no other. The sights and sounds you experience will enlighten your understanding of scripture as you walk through the pages of the Bible in living color! Please join us for this amazing trip of a lifetime.
Sit on the hillside of the Mount of Beatitudes where Jesus taught the great Sermon on the Mount, visit the Apostle Peter's house in Capernaum, take a boat ride on the Sea of Galilee, be baptized in the Jordan River, and worship in the Garden of Gethsemane. See the Pool of Bethesda where the Lord healed and walk the Via Dolorosa, the road to Calvary. Visit the beautiful Garden Tomb and rejoice with believers from all over the world! These are just a handful of the marvelous spiritual experiences that await you in Israel.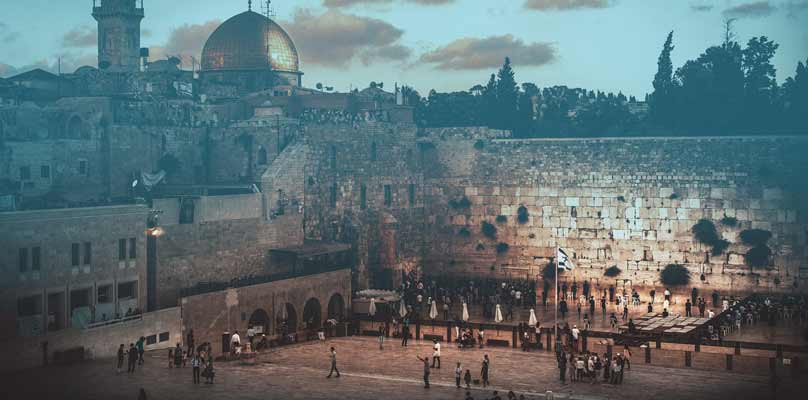 Tour Itinerary
Itinerary is subject to change.
Day 1 — Depart for Israel
Day 2 — Arrive in the Holy Land
Day 3 — Caesarea, Carmel, Megiddoo, Nazareth and Tiberias
Day 4 — Boat ride on the Sea of Galilee, Mount of Beatitudes, Capernaum, Tabigha
Day 5 — Golan Height, Caesarea Philippi, Jordan River Baptism
Day 6 — Beit Shaen, Jordan Valley, Jerusalem
Day 7 — Mount of Olives, Palm Sunday Road, Garden of Gethsemane, Caiaphas House
Day 8 — Masada, Dead Sea, Quamran Caves
Day 9 — Via Dolorosa, Southern Temple Steps, Upper Room, Old City of Jerusalem, Communion at the Garden Tomb
Day 10 — Depart for Home
Tour Information
Dates: March 8-17, 2018
Total Cost: $3,495.00 per person from Chicago based on double occupancy.
Add an additional $765.00 for a single room.
Tour Package includes:
Round trip airfare from Chicago to Tel Aviv, including airline tax and fuel surcharge
All transfers/portage to and from the airport in Israel
All entrance fees
Land accommodations in Israel
Breakfast and dinner daily
8 days of touring with a professional, licensed, English-speaking guide
Boat ride on the Sea of Galilee
Water Baptism in the Jordan River
Gratuities
Package does not include:
Passport costs
Lunch, snacks and additional beverages
Personal expenses: laundry, telephone calls, etc.
Anything not listed above as "included"
If you're ready to register for a trip that will certainly change your life, then fill out the form below. This 10-day trip comes at a phenomenal price that beats most any other tours out there right now, so don't delay.
Download a brochure here.
Save
Save
Save
Save
Save
Save
Save
Save
Save
Save
Save
Save
Save
Save
Save